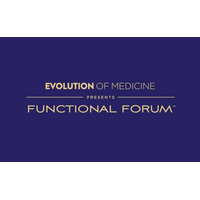 August 2015 Functional Forum
8:00 pm EST on Monday August 3rd, 2015
How do social relationships and community influence gene expression?
How can Functional Medicine address these sorts of concerns?
Who are the new players taking Functional Medicine forward and disrupting the current standard of care?
We are extremely excited to present a second Functional Forum in collaboration with the Institute for Functional Medicine. Filmed on location at the IFM's Annual International Conference in May 2015, this Forum will focus on not only the emerging "Omics" Revolution, but also the implications of that new understanding for patient care. From emerging mainstream TV stars to an update from the Cleveland Clinic, we feature some of the big names and rising stars in Functional Medicine, especially those innovating business models and showing very clearly the "Future of Functional".
The 90 minute show will also feature an extended session with George Slavich, PhD, whose talk was one the highlights of the conference looking at an emerging field: Social Genomics.
Keynote Speaker
George Slavich, PHD "Social Genomics" – How community and relationships influence gene expression.
Other Speakers and Guests Include
Mark Hyman, MD – Update from Cleveland Clinic
Rangan Chatterjee, MD – The GP of the Future
Shilpa Saxena, MD – Group Visits to Scale Functional
Tom O'Bryan, DC – Grabbing Your Career by the B@lls
and many more!
August 2015 Show Sponsors
Full professional supplement dispensary with no overhead
Automated compliance support on e-prescriptions
Best in category user experience for patient and doctor
The only EMR designed for Functional Medicine
Best support and customization for your unique needs
Best in category user experience for patient and doctor
A cloud-based application that saves up to an hour per patient
Pre-populates the Functional Medicine Timeline and Matrix and automates the Intake process
Enhances visualization of data and tracking of patient progress
Best in category physician coaching program
Develop proven models for patient acquisition and team interaction
Apply for free 2-day bootcamp in San Antonio for Functional Forum watchers
Best in category telemedicine provider for Functional Medicine
Leverage telemedicine to grow your practice
Use telemedicine to develop stronger relationships with your patients
---