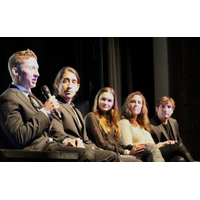 February 2016 Functional Forum
8:00pm EST on Monday February 1st, 2016
The Functional Forum is excited to present our first Functional Forum in Boulder, CO. Drawing on the amazing talent in the city of Boulder, we bring you speakers on the hottest topic in integrative and functional medicine: Gut Health.
Hear from leaders in the field as they look at the strategies, tools and modalities to help your patients achieve and maintain good gut function – with implications for the rest of the body and even our planet.
Our three keynote speakers draw from a range of backgrounds, representing the wide range of health professionals watching the Functional Forum around the globe.
Firstly, we welcome Boulder native Dr. Jill Carnahan, a leading Functional Medicine doctor and sought after speaker. She will share some of her tough GI cases and the strategies she has used to turn them around, as well as, the key learnings from those cases.
Marc David, also from Boulder, is Founder of the Institute for Psychology of Eating, one of the premier places on the web for the general public and health professionals to further their understanding of the cross section of nutrition, psychology, science and the soul.
Sayer Ji rounds off the keynotes with a discussion of what we can learn from the microbiome, not only for our own health, but also in our understanding of what it means to be human. Sayer is Founder of GreenMedInfo.com, working with a number of organizations dedicated to preserving health freedom and empowering medical evolution.
The three of them are joined on the live, interactive panel by two other Boulder transplants, leading pharmacist and NYT best selling author Dr. Izabella Wentz and SCDLifestyle.com founder Steven Wright.
Keynote Speaker
Jill Carnahan MD Clinical Case Studies for Tough GI Cases
Marc David Digestion: A Mind-Body-Energy Approach Sayer Ji The Macro Implications of the Microbiome
Other Speakers Include:
Dr. Izabella Wentz Steven Wright
Download Presenter's Slidedecks
Click here
if you're interested to download our speakers' presentation slidedecks.
Download Slidedecks
February 2016 Show Sponsors
Bring personalized medicine to everyone. On-demand diagnostics in your office, at your patient's home, or other convenient location of their choice.
Order lab tests and streamline the collection process with the push of a button, patient compliance improves to 97%.
With smartphone technology, Iggbo closes the last mile to the patient and reinvents healthcare's service delivery model.
Best in category physician coaching program
Develop proven models for patient acquisition and team interaction
Apply for free 2-day bootcamp in San Antonio for Functional Forum watchers
a HIPAA-compliant Mobile Practice Ecosystem for real-time health & wellness plan delivery, coaching & communications.
Easily Create and Manage all your Health & Wellness Plans
Deliver Plans & Content in an easy-to-use mobile App
Monitor & Track Engagement, Compliance and Progress in Real-Time
Improve support with streamlined communications, automated notifications and personalized reminders.
Reduce your risk of exposure to toxic indoor microorganisms
For allergy sensitive or immune-compromised individuals, target everything from dust mites to pet dander, while helping to cut down on bad odor
Airbiotics invented and pioneered its patented StaBiotics™ – the concept of deploying safe environmental stabilizing probiotic protection against harmful indoor contaminants and allergens that can flourish indoor
---