December Functional Forum:
Mitochondria: The Great Orchestrator
Monday, December 4, 2023 - 5pm PST, 7pm CST & 8pm EST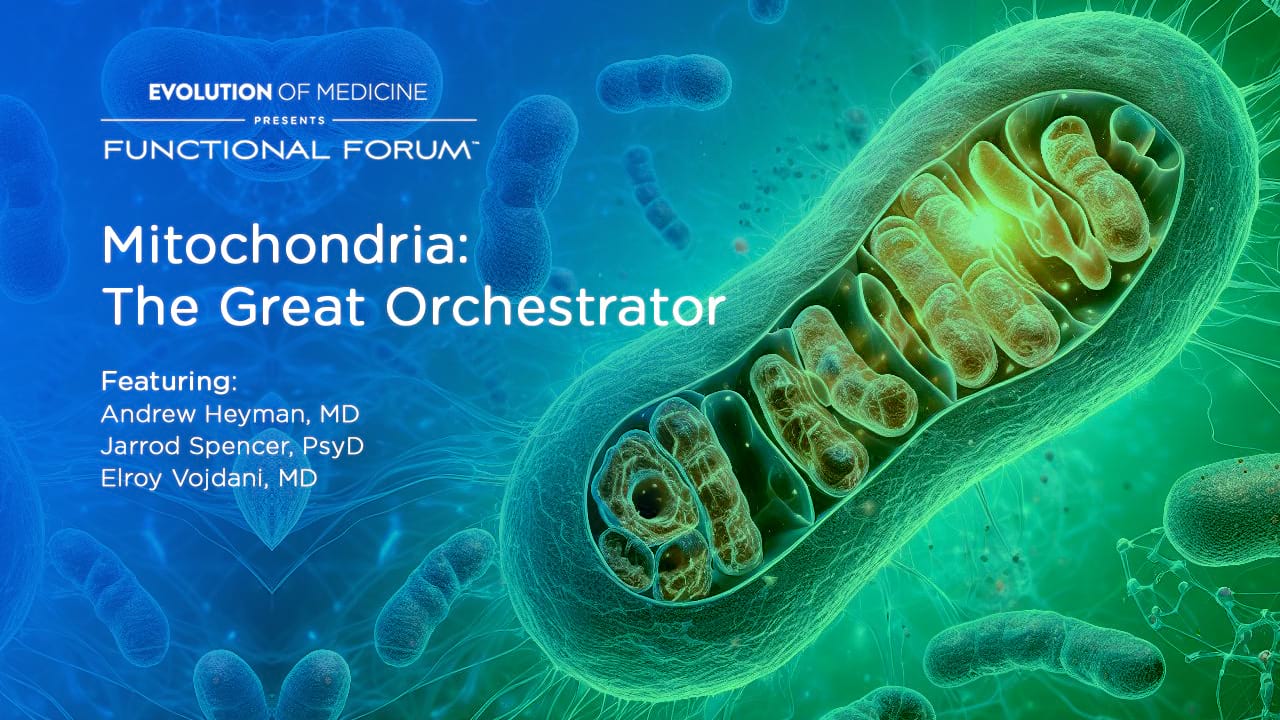 Andrew Heyman, MD
Jarrod Spencer, PsyD
Elroy Vojdani, MD
The Evolution of Medicine is excited to announce the December Functional Forum, which was filmed in Park City, Utah at the October 2023 A4M conference, Mitochondria: The Conductor, The Powerhouse, The Key to Cellular Healing.
Four years ago, we attended the same conference where it was made clear the degree to which mitochondria impact the cell danger response and chronic inflammatory conditions.
Now that the science has evolved, we are doing a deeper dive into understanding how mitochondria orchestrate immune activity and a host of other functions.
Starting us off is Dr. Andrew Heyman, who is the medical director of Integrative Medicine at The George Washington University and the director of Academic Affairs at A4M. At 17 years old, Dr. Heyman started his career in medicine with formal training in five-element shiatsu and traditional Chinese medicine. He has since trained in a long list of therapies.
During his opening keynote at the conference, Dr. Heyman spoke of vitalism, which involves the connections between several areas of medicine, such as Chinese, Ayurvedic, naturopathic and chiropractic, where mitochondrial function can be measured.
We will also feature Dr. Jarod Spencer, Dr. Elroy Vojdani and several other conference attendees who shared how they address the many manifestations of mitochondrial dysfunction.
We are extremely excited to bring you this talk, which will be a clinical expression of our mission at the Evolution of Medicine to bring together like-minded clinicians.
For the first time in history, we are seeing a convergence of cutting-edge medical science and vitalism, all pointing to a unified medical paradigm.
Please register, watch and share!
Who Should Attend?
Conventionally trained practitioners interested in functional integrative medicine
Generalists (primary care, family medicine)
Integrative Medicine (chiropractors, acupuncturists, physical therapists, dentists)
Specialists (psychiatrist, pediatrician, cardiologist, etc.)
Food focused practitioners (registered dieticians, nutritionists)
Lifestyle medicine, precision medicine and naturopathic medicine practitioners
Health coaches
Medical stakeholders
Digital health entrepreneurs
Can't Watch The Show Live?
Register and we will send you the replay!