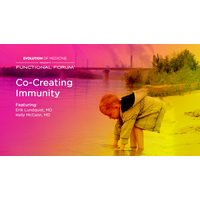 Erik Lundquist, MD
Kelly McCann, MD
The Evolution of Medicine is thrilled to announce our November Functional Forum, Co-Creating Immunity. Please join our second-to-last Forum of 2023, the year of connection.
We are intimately connected to our environment, and environmental toxins contribute to chronic illnesses. In particular, the link between environmental illness and immunity is an area where functional medicine is really coming into its own.
We are excited to showcase local practitioners who are at the cutting edge of this topic. We will also hear from presenting community members who are innovating their clinical practices, business models and technology.
Our first guest speaker, Kelly McCann, MD, has been a leader in environmental medicine for over a decade. Dr. McCann was one of the first hosts of the Orange County Functional Forum in 2015-2016. Expect deep clinical insights from Dr. McCann as she shares her tips for building immune health.
Our second guest speaker will be Erik Lundquist, MD, who has an innovative business model and clinical approach. He will present on stress and the immune system and share methods for improving immune function in your patients.
As always, this Functional Forum will be hosted by James Maskell. We will showcase how practitioners are helping patients build immunity through innovative in-person and virtual group care models. We will also highlight lessons from the field on how capitation and value-based care are creating the right incentives for functional medicine to flourish in many ways.
Bonus: Watch Dr. Lundquist's clinical case presentation on post-COVID patient treatments.
COVID Long-Hauler Clinical Case Presentation
---